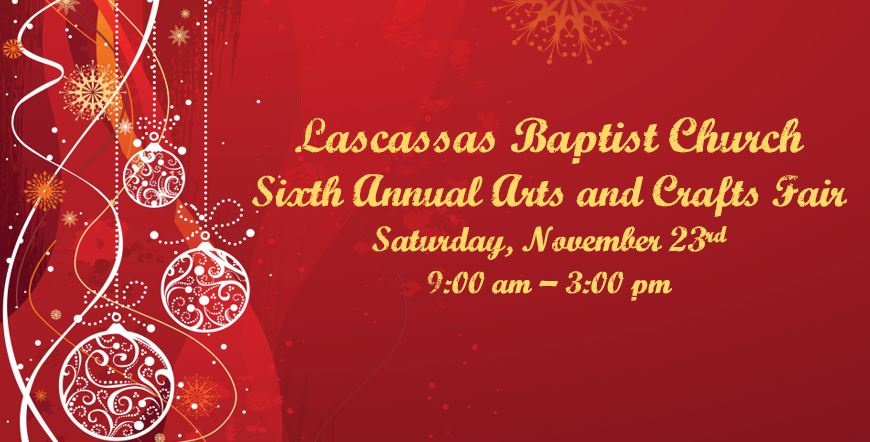 We are making plans for our Sixth Annual Arts and Crafts Fair! All past vendors have been contacted via email and invited to apply for this year's event. Any other interested parties are welcome to apply, using the link below.


VENDOR INFORMATION AND AGREEMENT
Our Sixth Annual Arts and Crafts Fair will be held on Saturday, November 23rd from 9:00 am – 3:00 pm.
All vendor registration will be done online at www.LascassasBaptistPreschool.com. This is not a first-come, first-serve event. A panel of judges will select the vendors represented at our event. You will supply a description of your items to be sold on the online form. ALL REGISTRATIONS ARE DUE BY MONDAY, JULY 22. You will not be contacted by the preschool until our judges select the vendors that will be represented at our event. After they have made their decisions, you will be contacted by email on MONDAY, AUGUST 5 to let you know if you have been accepted or added to our waiting list. If we do not receive enough applicants to fill out spots, we will accept another round of applications.
Do NOT bring payment unless we contact you with approval of your spot. When you have been approved, you have three days to pay the vendor fee and complete our required paperwork. Make checks payable to LBP. Vendors who aren't selected initially will be added to our waiting list.
The church's address is 4750 E. Jefferson Pike, Lascassas, TN 37085 and the preschool number is 615-895-2370.
- Half-booths will be set up in the Fellowship Hall.
- Hallway booths are very narrow and are limited. Vendors will be unable to sit behind their table, but would have room for a chair next to the table. These are reserved as mission trip or church fundraiser booths
- Outdoor booths are reserved at your own risk. Plan to bring your own tent. There will be no refunds in the event of unfavorable weather.
- Regular booths will be set up in the Fellowship Hall.

No more than two booths may be reserved per vendor.
The tables you rent from LBC are 8x2½ and cost $10 per table. If you choose to bring your own table, it MUST fit in the space you have purchased and it must be covered. You MUST provide a covering for all tables in your booth. Please note - tables for the ½ booths are not offered by LBC.
You are welcome to bring a tent for your booth but it must fit in the space you have reserved.
All vendors should set up their booths on Friday, November 22nd from 5:00 pm – 7:00 pm or on Saturday, November 23rd from 8:00 am – 8:30 am. Vendors need to be ready for shoppers on the 23rd promptly at 8:45 am.
If you are selling items that represent a company or direct marketing sales (such as ThirtyOne, Lilla Rose, NoonDay, Plunder, Plexus, etc.), you must have "cash and carry" items to sell. If you do not have cash and carry items, you will not be given a booth.
Any booths selling the items that represent direct marketing sales are limited to three indoor booths, one being a regular booth and the other two being half-booths. Once the three indoor booths are gone, no more company promoted booths will be allowed. If space is available outdoors, more direct sales booths may be consider

All vendors in our Arts and Crafts Fair are required to donate a small item from their wares for a raffle fundraiser for the preschool. These items are due in our office at the time of payment for the booth.
If your booth requires electricity, you must provide your own extension cord. Cost for electricity is $5.00.
Vendor Spotlights on our Facebook and Instagram pages are very popular! To submit photos and information for your Vendor Spotlight, email them to Jenny@LascassasBaptistPreschool.com.
Lascassas Baptist Church is not responsible for lost, broken, or stolen items. Lascassas Baptist Church reserves the right to reject any vendor that does not meet our expectations or line up with our Christian beliefs.
All vendor rental fees benefit Lascassas Baptist Preschool.